As the saying goes, "as a man sows, so he shall reap."
However, the fruit of labor by Yu Yunle, who jokingly describes himself as a "farmer in the city", is shared by hundreds of thousands of people.
Born in 1985 in Zhangjiakou, Hebei province, Yu now is a landscape designer based in Beijing. His obsession with horticulture sprouted at a very young age when he began growing various plants at home. After graduating from high school, Yu decided to turn that hobby into career. He studied landscape design at university and later got a master's degree in landscape planning.
When dream meets reality
Back in school, he dreamed of working in a comfortable office with flexible working time and respect from the public. However, like many others, his impression of what it means to be a landscape designer proved to be unrealistic.
In 2011, employed by Beijing Green Garden Group Co Ltd, Yu came to work in Beijing as a landscape designer. The first project he took part in was the Beijing Garden Expo Park. Together with his colleagues, Yu lived in a shabby and crowded bungalow near the construction site for six months. With no heating, the dormitory was freezing in winter. With no running water, Yu and coworkers shaved their heads to save the trouble of washing it.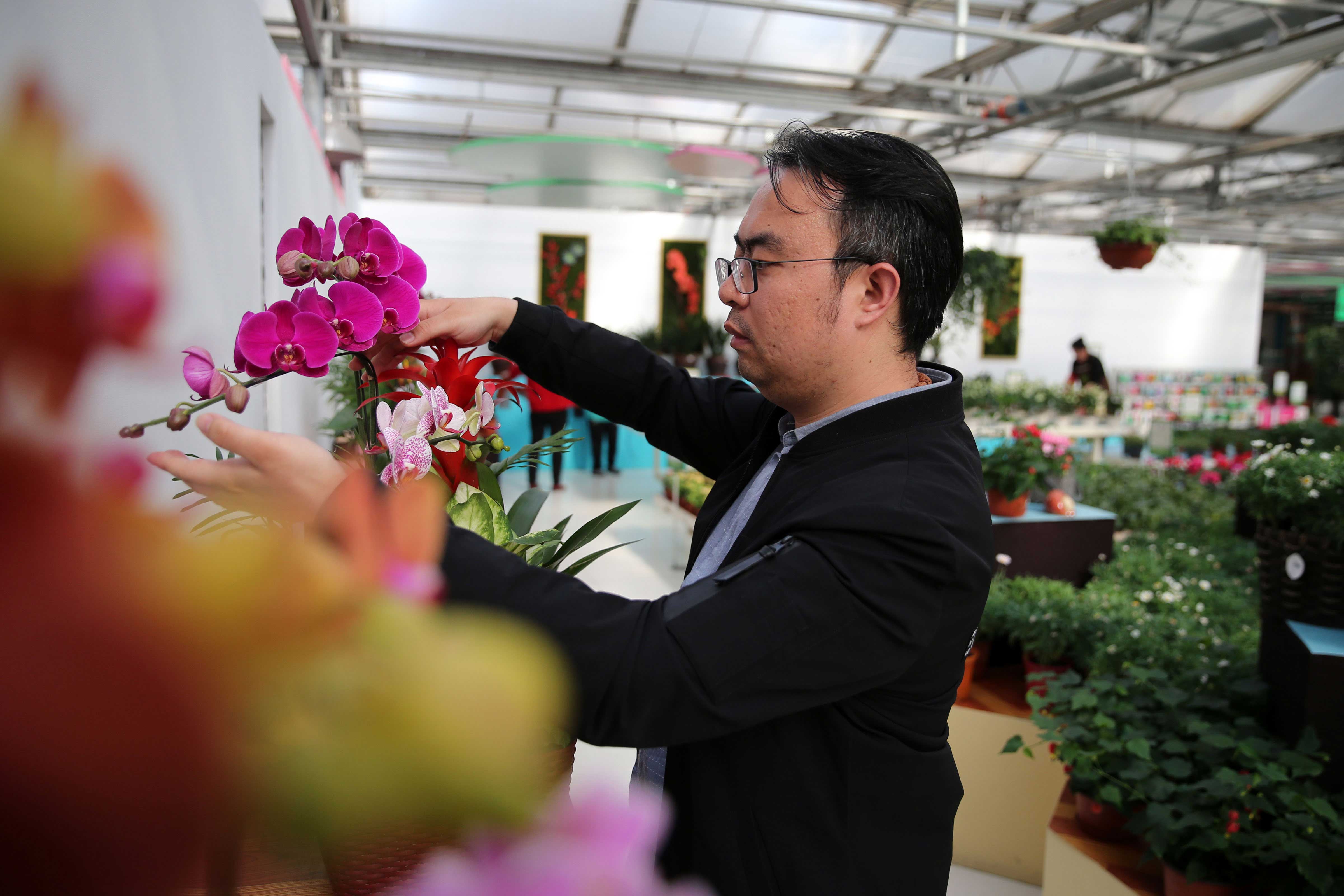 Yu Yunle arranges a potted flower at his company in Beijing, on Apr 14, 2017.
"Back then it was common for us to begin working at dawn and go back to the dormitory at 8 or 9 pm," Yu recalled. "It was really tough."
But the suffering soon eased as he witnessed the 513-hectare space, which used to be full of garbage, gradually turn into a beautiful garden in two years. Now ithas become the most popular theme park in western Beijing, and the ideal place for various events and activities.
Sweet bitterness
Yu later learned that emotional ups-and-downs like this are normal for a landscape designer.
The job can be extremely exhausting and tedious most of the time. That's why 10 years after graduation, less than five percent of his classmates are still working in this field.
"If the client is not satisfied with the design, you have to start all over again," Yu said.
He struggles a lot when facing persnickety clients and is buried under mountains of drafts. The most challenging and tricky part of the job is to guarantee the overall effect of the work while meeting the demand of his clients, who usually know little about gardening.
"It's like tai chi. You need to push reasonable suggestions from the clients in the middle and push unreasonable ones aside without upsetting your clients," Yu said.
Although distressed by picky clients and piles of drafts, Yu finds himself constantly pushed forward by his achievements and new ideas.
In 2015, Yu's company was tasked to design the booth for Beijing municipality at the Hong Kong Flower Show, which each year hundreds of organizations from home and abroad display floral arrangements and landscape.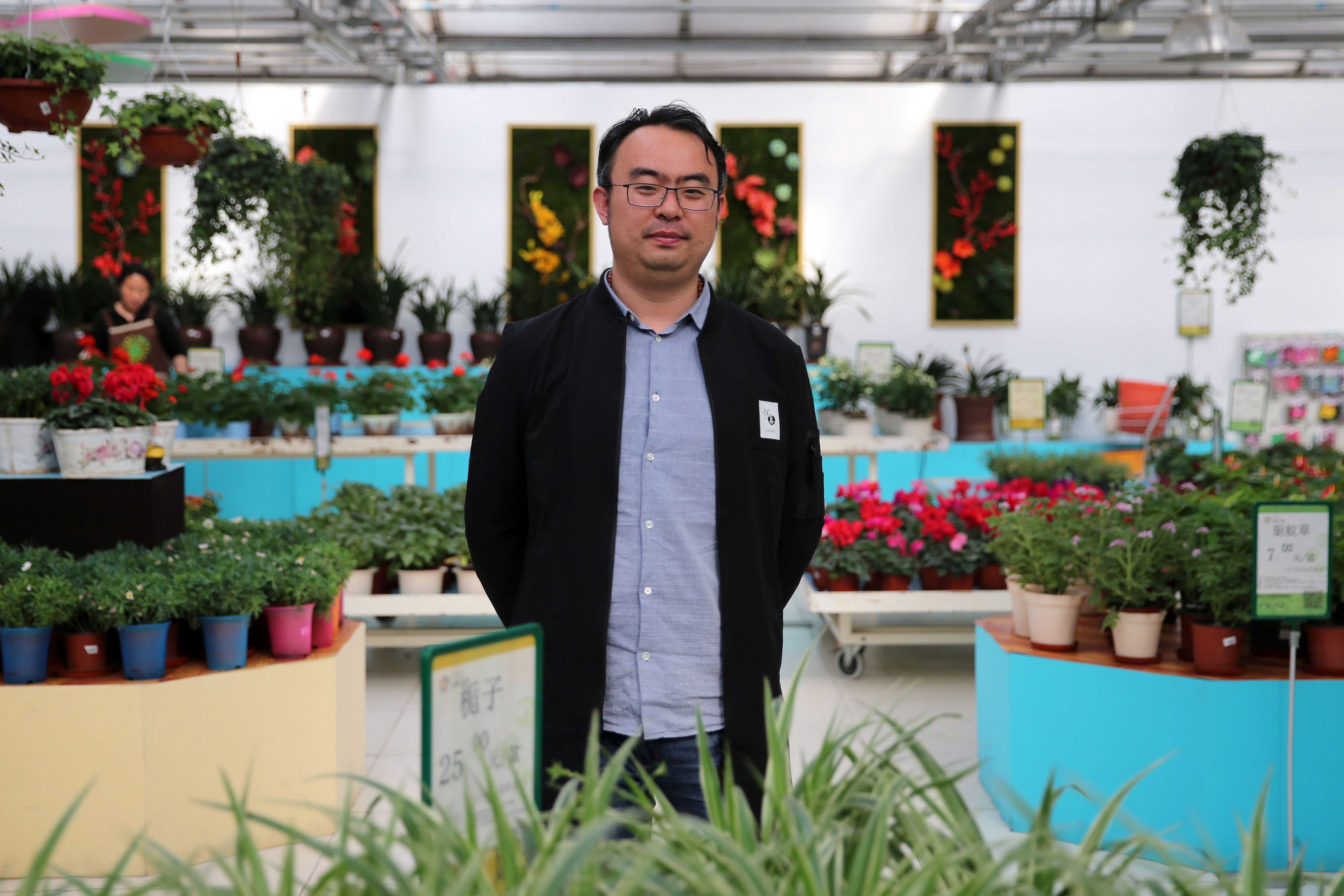 Yu Yunle poses for a photo at his company in Beijing, on Apr 14, 2017.
Taking suggestions from government officials, as well as experts in different fields, Yu and his team came up with 15 drafts in one month.
Their hard work was not in vain. As a result, Beijing won the highest award in the show, which was the first time Beijing received this award in 29 years.
Serve ordinary people
Although his work has won a lot of awards at home and abroad, Yu is for most of the time an unsung hero who arranges flowers and trees along the roads and builds small gardens in local neighborhoods.
However, it is those works serving ordinary people that make him happiest.
"I feel really fulfilled that, because of my design, people live in a neighborhood where they can play with their kids and chat with their friends while enjoying the flowers and shade of trees," He said.
Yu enjoys taking feedbacks from his users. He said he is doing the job from a designer's perspective. Therefore it is very helpful to listen to the ideas of the people who live with his work every day.
"For example, as a landscape designer, whenever I see people stepping on the lawn, my first idea is not to criticize their behavior, but to consider what went wrong with my design. Why don't people use the path next to the lawn, instead of stepping on the grass?"
At the same time, Yu hopes the industry can get more attention and recognition. He noted that in China, landscape design still takes the back burner to architecture. "If a developer invests 100 million to build a housing estate, the majority of the money will be spent on buildings. Many developers only consider greening when there is money left."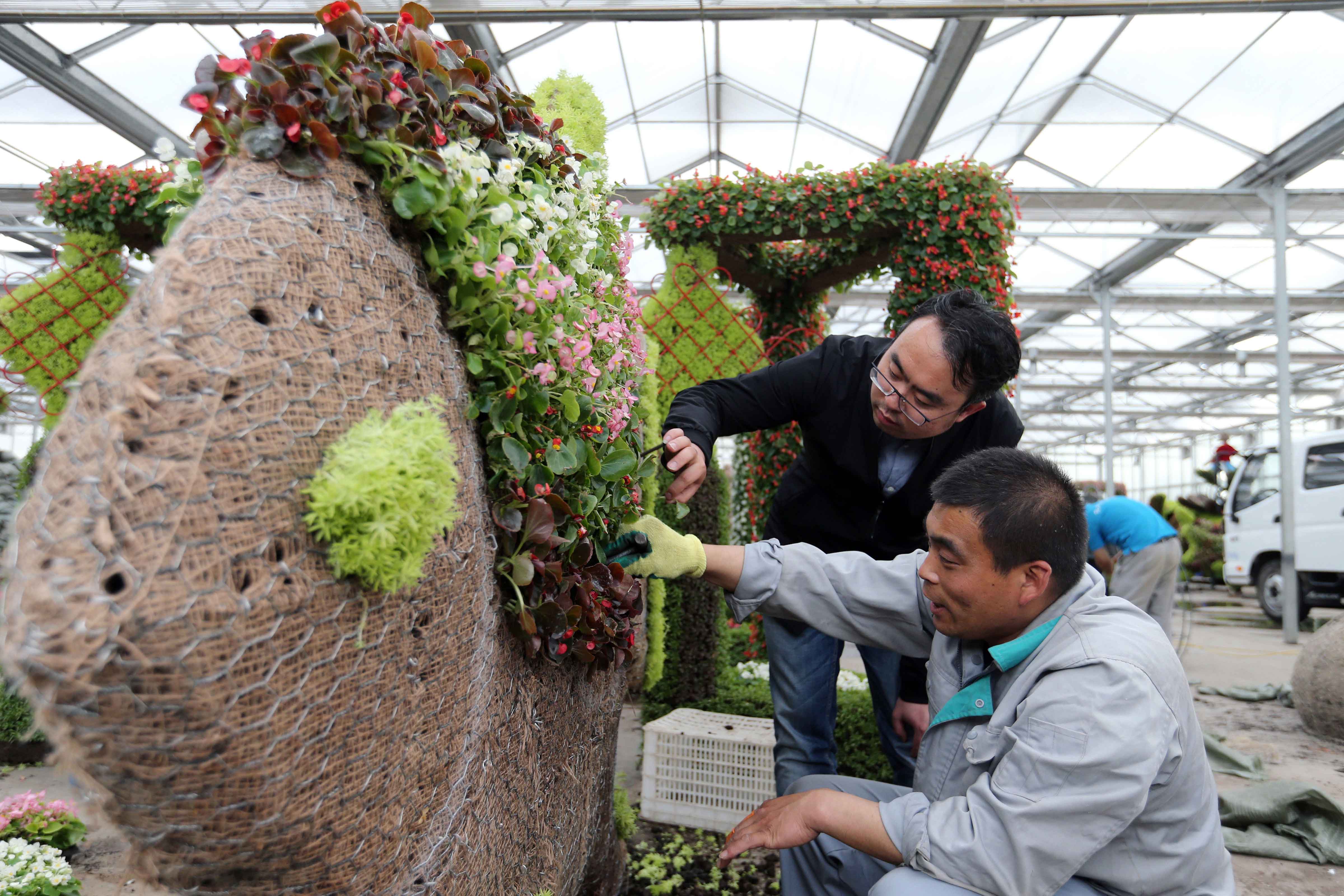 Yu Yunle helps a gardener decorate a flowerbed on Apr 14, 2017.
The public need to know that landscape is not just about growing trees and flowers. It is a science, he said.
"Only when people know more about this, can we better do our job and serve them."
A regretless choice
While there are advantages to turning a hobby into a full-time job, many people find they are risking losing a hobby by making it their bread and butter. Fortunately, Yu's job and hobby coexist peacefully.
After work, he spends a lot time in his balcony at home, which was "expropriated" for about 100 succulent plants. When travelling, others repeatedly complain that he spends too much time figuring out to which family a roadside plant belongs to.
"I wouldn't change my job if I was given another chance. Most of the time, my life is sunny and beautiful because I like my job and I have dreams," he said.
"The job gives me an opportunity to contribute my part to the society," Yu said. "Although it is not exactly what I dream about, it is close enough to keep me going forward."